Festival to Pay Homage to Ayotzinapa 43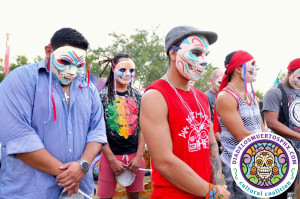 Dia de Los Muertos is a time when the lives of those who have passed are celebrated and memorialized. A group of young men will be remembered in a special tribute at this year's Dia de Los Muertos PHX Festival, a free event scheduled 1 to 6 p.m. Oct. 25 at Steele Indian School Park.
Late September marked the one-year anniversary of the shocking disappearance of 43 young men. They were students at the Ral Burgos Rural Teachers College of Ayotzinapa, who were kidnapped while protesting crime and corruption near their home town of Iguala in the Mexican state of Guerrero.
Known as the Ayotzinapa 43, the students' disappearance triggered outrage and protests that continue today, as the violence is symbolic of the thousands of people who have disappeared during the drug wars.  The alleged collusion between the Iguala mayor, his wife, the local police and ruthless regional drug gang has sparked global protests and a public security crisis for Mexican President Enrique Pena Nieto.
Dia de Los Muertos PHX honors the memory of these young men in a special artistic performance and ofrenda (altar). Read more on the Ayotzinapa 43.