Cultural Educational Programs
We offer several educational programs for children to learn and experience indigenous art, music and culture.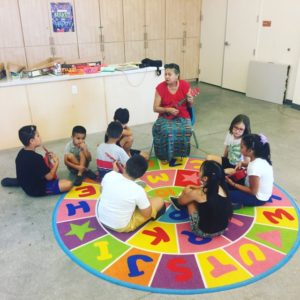 El Rancho del Arte After School Art Program
All our partnerships and events have proven to be fruitful as we continue to grow in attendance and as we add new projects  in partnership with El Rancho del Arte.
Some of our  roster artists work with under served youth living in this  innovative affordable housing complex. With our community support and donations we have been able to fulfill our commitment  to serve our community this year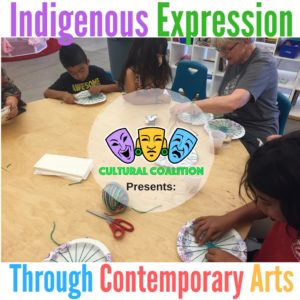 Indigenous Expression Through Contemporary Arts
The recently developed Cultural Coalition's Education Initiative seeks to explore, examine and introduce Native and non-Native students to contemporary Indigenous arts as an expressive outlet. Using a multitude of Indigenous art activities, students will have the ability to communicate their work in a safe and conductive environment created to guide them in the art making process and expose them to new forms of communication.
Class times are flexible and we can coordinate with existing schedules. Ideally, we would like to have the students for a period of two days for 2 hours each day, in order to ensure efficiency and understanding. Students will also be introduced to established Native artists int he community via power point presentation, who promote wellness through art and support cultural heritage language and creativity.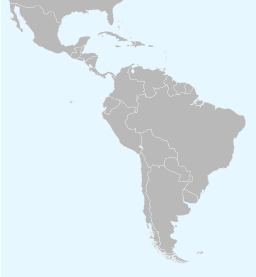 AN IMAGINARY TRIP THROUGH THE AMERICAS
A Multi Cultural Multi-Media Musical Assembly
A 45-minute presentation with live music in four different languages and instrument demonstrations from various regions of Latin America. Each performance is a historical and anthropological experience utilizing over 20 authentic indigenous instruments, with some types dating back to pre-Columbian times. Led by Brazilian-born Carmen de Novais, this performance is much more than music—it offers audiences an aural atmosphere conducive to multi-cultural understanding.
1 assembly $350.00; 2 assemblies $550.00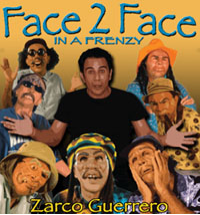 FACE TO FACE IN A FRENZY
A Performance Art Piece By Renowned Sculptor/Mask maker, Zarco Guerrero
Face to Face in a Frenzy is a maniacal one-man masked manipulation that mirrors the mystery of the mind and heart in myriad fantastic faces. With a master's touch, Zarco Guerrero personifies eccentric prototypes forcing us to examine our most innate feelings and thoughts on such themes as self-esteem, bigotry, aging, abuse and denial.
Zarco has traveled extensively investigating the use of the mask in theater, ritual and ceremony; he brings years of first hand experience to life in this chilling but also humorous presentation. Through the artist's eyes we see ourselves and society as never before—exposed by his masks, movement and monologue.
This one man performance lasts approximately 45 minutes and includes a question-and-answer period.
1 assembly $450.00; 2 assemblies $750.00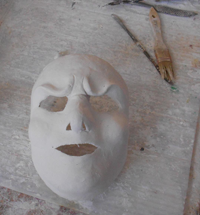 MASK MAKING LECTURE & WORKSHOP
A Hands-on Art Experience
As an award-winning mask maker, Zarco Guerrero has worked with over 40,000 Arizona students in the last 20 years to create personalized masks. He presents a lecture including a powerpoint presentation prior to the hands-on experience. The theme of mask making can easily be applied to other subjects in a school's curriculum such as history, geography, mythology and story telling. Masks can be made from paper using simple folding and cutting techniques or can also be created with plaster bandage to produce more durable masks for performances. The artist is available for weekly residencies and/or day-long services.
1 assembly $350.00; 2 assemblies $550.00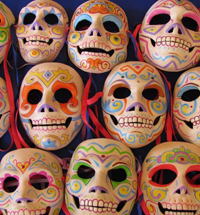 MASK MAKING ACTIVITIES
Under the Guidance of Zarco Guerrero
Masks have been used for thousands of years by many indigenous peoples throughout the world. They have the power to conceal or reveal and can transform the ordinary into the extraordinary. We offer mask making experiences for various ages and in various media:
• Cut-Out Colored Paper Masks (K-6) Participants will create their own patterns by cutting/pasting paper.
• Press Mold Cast Paper Masks (6-12) Participants utilize molds to create their own air-dried clay masks. (Institution must provide the special clay; Artist will provide the mini molds.)
• Coloring Masks (K-3) The artist will provide a few examples of masks patterns in paper to be cut out, colored and decorated by the participants.
$360.00/day (up to 4 hours/period of services); $1,200.00/week-long residency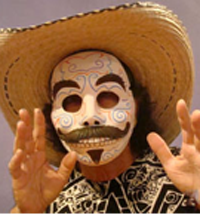 DIA DE LOS MUERTOS
Storytelling Festival
Dia de Los Muertos is a highly celebrated and significant holiday held throughout Mexico, Latin America and the Southwest. It is a day when homage is paid with prayers, offerings of food and the building of altars to those who have gone before us.
Join Zarco and his unique masked characters as they celebrate Día de los Muertos (Day of the Dead) with hilarious and moving story telling. Among the characters making appearances are: the poetry spouting "El Vato Poeta," the flirtatious "La Comadre," the clueless "Special Ed," the wise "El Abuelito," and other beloved roles that Zarco, a prolific playwright, has created to express the humor and sadness of our lives. Musical accompaniment is provided by Carmen de Novais.
The Dia de los Muertos Storytelling Festival puts life into perspective in a delightful and engaging way, helping us to accept and even to laugh at our most primal fears about death.
1 assembly $450.00; 2 assemblies $800.00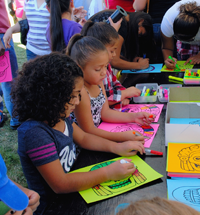 DIA DE LOS MUERTOS ACTIVITIES
Hands-on Arts Experiences

• Papel Picado The ancient art of folding and cutting colored tissue papers has been associated for hundreds of years as decorations for this special holiday in Mexico.
• Calacas Encantadas Masks We provide different Calaca mask patterns for students to cut and decorate with colored paper and found objects. A great way to introduce students to this theme.
• Dancing Calacas A plain, full body pattern is provided for students to cut, decorate and articulate
• Altar/Memorial Making "Cajita" Workshops Appropriate for 7th-12th grade students, these special Memory boxes made of recycled materials are decorated with a special person or theme in mind.
1 workshop $175.00; 2 workshops $300.00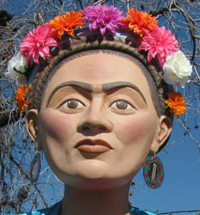 FRIDA KAHLO
An Extraordinary Artistic Force
Since 2003, Carmen Guerrero has been part of The Phoenix Fridas: an award winning collective of local Latina artists. In this powerpoint and lecture presentation, Carmen talks about the Life and Times of Frida Kahlo who is now considered the most famous and celebrated female artist in the world. Discussion includes the impact Frida had on Mexican culture and her continued influence on aspiring contemporary artists.
1 assembly $350.00; 2 assemblies $600.00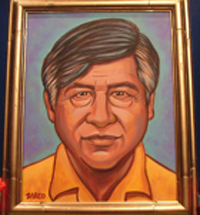 CESAR SAYS
A Music and Theater Performance
A 45-minute performance in which Zarco Guerrero portrays the life and times of this iconic historical figure through his unique masked characters and their reverent yet humorous style of story telling.
Cesar's words of wisdom and the history of the period are highlighted in this performance. Zarco puts Chavez's life and accomplishments into perspective in a delightful and engaging way in this family-friendly show; Carmen de Novais sings the music of the farm workers labor movement.
1 assembly $450.00; 2 assemblies $800.00