El Puentecito Arts Festival at i.d.e.a. Museum Sat Oct 8th!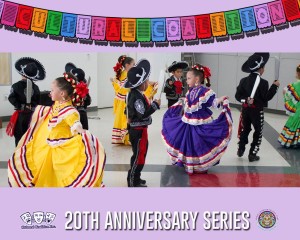 Thank you to everyone who attended El Puente Festival at the Tempe Center for the Arts last  Sunday! It was a blast!  Whether you missed El Puente Fest or not, there is still time to get your fix of cultural events for you and your family.
This weekend is El Puentecito  Festival, on Saturday Oct 8 10-2pm at the  i.d.e.a. museum in downtown Mesa.
This family celebration will include music, dance, arts and special performances by young performers and dance troupes in Arizona. Art activities for kids and entertainment will be available to the whole family with paid museum admission.
Attendees will see art works by renown mask masker Zarco Guerrero, music and dance performances by Desert Sounds Mariachi,  Ballet Alegria, Mariachi Juvenil de Mi Tierra and Quetzalli Ballet Folklórico.
Kids arat activities include mask-making with Cultural Coalition and maracas-making with Childsplay. The finale will feature Zarco Guerrero's 8-foot-tall Frida Puppet doing a special dance.
For more information on this fun family event, you can visit the i.d.e.a. Museum's event page for a complete schedule and admission rates. We hope to see you there!