Who is Cultural Coalition?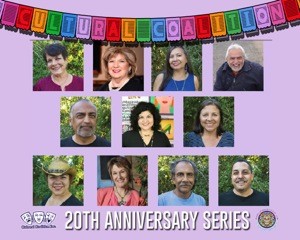 In the first post of our 20th Anniversary Series, we discussed the genesis of the Cultural Coalition as "a few passionate individuals" who saw a need for the development and support of grass roots arts in the community. But who are these individuals? Our board members, the majority of which are those that have been with Cultural Coalition since its inception twenty years ago, fall into no one category.
Our board is made up of accomplished individuals with diverse experiences, unique skill sets and rich cultural backgrounds. Here musicians, artists of all disciplines and educators can work together to promote and preserve cultural and arts events in the community.
Notable board members include: Gustavo McGrew, Art Therapist and Mental Health Specialist, Emily Costello, a Phoenix Frida painter and Zarco Guerrero, Master Mask-Maker and Sculptor. Combining these unique perspectives and skills is exactly what Cultural Coalition is all about : bringing together arts and culture in distinctive and accessible ways.
It would be easy to explain who we are by our board members and founders, but to truly give a thorough answer of the who in cultural coalition, it wouldn't be enough to describe just the members.  The reason for this is simple: Cultural Coalition exists because of EVERYONE: our donors, our artists and each person who attends our events and celebrations; Ultimately, the who in cultural coalition is YOU, the community, and we couldn't be happier to have 20 years of successful programming behind us thanks to you! Gracias!