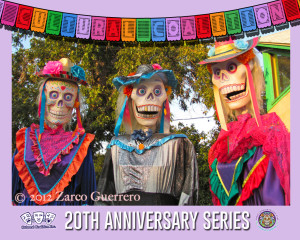 Mikiztli [mee-keesh-tleeh]  and its history can be found tracing far back into Anáhuac, the original name of pre-colonial Meso America. Before the arrival of the Europeans, the indigenous peoples had no word for death in the Náhuatl language. We viewed death as a transition from this life to the next, called Mikiztli, a transformation or letting go.
Though many of us may be familiar with the colonial term of  Day of the Dead and its customs, it does not fully express the history and meaning of what the Mexica called Mihcailhuitl, ~ A Gathering of the Spirits ~ a Celebration of Mikiztli. To do justice to this ancient tradition and to honor our ancestors, we celebrate the iconic imagery and profound meaning of this poetic metaphor with community expressions of music, dance and the extensive use of the Calaca mask.
So, please join us for free performances, art activities, giant puppets, local art and a community altar this Sunday, November 6th at Pioneer Park as we come together to celebrate Mikiztli in Mesa!
For more details about this free, family-friendly event, check out the facebook event page, and don't forget to share it with your friends!