SUPPORT CULTURAL COALITION, INC.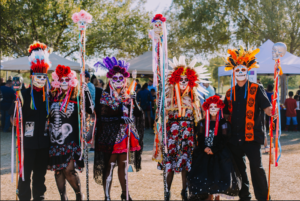 Cultural Coalition, Inc. is a 501(c)(3) nonprofit organizations whose mission is to provide community engagement through unique cultural programs dedicated to the education, promotion and development of Indigenous artists in Arizona. The Coalition has been organizing Día de Los Muertos programming and activities for over 30 years throughout Arizona. Our goal is to celebrate the indigenous community with culturally relevant, family friendly programs that address our diverse experiences and traditions, while fostering multicultural understanding and appreciation through innovative and original performances.
INDIVIDUAL DONORS
A one time donation to Cultural Coalition, Inc. means you are helping us fund for our festivals, educational activities and supplies for art activities for children in Arizona. When you donate to Cultural Coalition, Inc., you are supporting the Indigenous community.
MONTHLY GIVERS
Want to donate every month? If you become one of Cultural Coalition's monthly givers, you will receive an invoice at the end of each month to remind you to donate. By becoming a monthly giver we can automatically charge you one approved and its hassle-free!
CORPORATE SPONSORSHIP
We are seeking community-oriented partners of the arts to keep our festivals and educational activities free while continuing to develop innovative performances. Join us in maintaining and celebrating this uniquely Arizonan tradition.
Turquoise $5,000 +
Corporate logo placement on all printed collateral
Corporate logo on all promotional websites
Corporate logo mentions on social media promotions
Corporate logo on key festival signage
On-site booth, canopy, table and 2 chairs for community outreach at selected festival
Live stage announcements and promotion at selected festival
Inclusion in email newsletters
Corporate Tickets to Special Fundraising Events
Jade $2,500
Corporate logo placement on all printed collateral
Corporate logo on all promotional websites
Corporate logo mentions on social media promotions
Corporate logo on key festival signage
On-site booth, canopy, table and 2 chairs for community outreach at selected festival
Live stage announcements and promotion at selected festival
Inclusion in email newsletters
Amber $1,000
Corporate logo on all promotional websites
Corporate logo mentions on social media promotions
Corporate logo on key festival signage
Live stage announcements and promotion at selected festival
Inclusion in email newsletters