It's been a monumental collective effort to bring Borderlands Theater for the first time to Phoenix!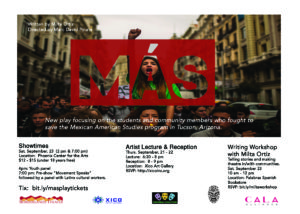 The Cultural Coalition has partnered for the first time with Xico, Inc., CALA and ASU's Performance in the Borderlands.   We are all working together to present "Más," a performance about the attack and removal of the Mexican American Studies program at the Tucson Unified School District. These local arts organizations are honored to share this production with the Phoenix community.
Más explores the complexities of the struggle in Southern Arizona to keep the ethnic studies program in schools. It tells the story of community advocates fighting to maintain the curriculum as governmental officials say the program promotes resentment toward a race or class through a bill that was introduced in 2010, HB 2281. Advocate faith in the program, the state's viewpoint toward the ban, and gender and ideological divides are all part of the story. Under director Marc Pinate, this is a 'must see' production which includes dance, masks and gripping dialogues, followed by panel discussions.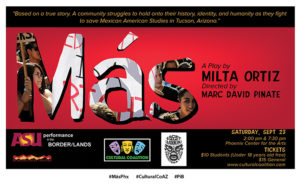 Even though statistics proved the MAS program to be successful in academic achievement, the state decided to attack the Tucson school district with a threat to remove funding in order to ban the program. Students sued the state and now a federal judge recently ruled the ban on the ethnic studies program in public schools to be unconstitutional. The story and news of this struggle will be discussed at the panel.
The Más performance evokes the emotional toll a community endures as they fight what was a result of a sound bite taken out of context in order to suggest fear and resentment toward their community. The show speaks to the need to stand up for what is right through dance and ritual with masks.
Other community partners include ASU's Performance in the Borderlands, Center for Neighborhood Leadership, Palabra Bookstore and the Frontera Fund.
Being located at forefront of the struggle, Borderlands Theater united Marc Pinate and playwright Milta Ortiz, to bring a stellar performance that will speak to community members and uplift those in the fight against hate and discrimination. Borderlands Theater was established in Tucson over the past 30 years and Xico, CALA and Cultural Coalition are all very excited to bring them to the valley for this show. Because this is first time all these organizations come together, it is a special moment for Latino Arts in Phoenix!
http://www.tucsonsentinel.com/local/report/082217_tusd_mas/judge-law-barring-tusds-ethnic-studies-unconstitutional-motivated-by-racism/
Get your tickets at:  http://bit.ly/masplaytickets