Save the Date: El Puente Fest is October 2nd, 2016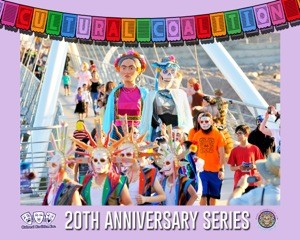 Mark your calendars for masked celebration at El Puente Fest, October 2nd, 2016, from 2 to 6 pm. Bringing together elements of procession and play, El Puente Fest's colorful activities allow room for adults and children alike. But just what is El Puente Fest?
"Puente" literally translates to the word "Bridge". Symbolic in nearly every culture, bridges are often an emblem of transformation, change and even the transition to afterlife. These metaphors and shifts are celebrated by a masked procession, theatre festival and children's art activities.
Taking place at the Tempe Center for the Arts, the festival boasts many activities, including a free performance by Childsplay Theatre, and a masked procession over – you guessed it – Tempe's Pedestrian Bridge.
In celebrating some life's transitions and changes, we'd love for your to join us. We will be marking this puente the best way we know how, with multicultural dances, performances and live music.    Be sure to come to this annual cultural event, or if you'd prefer, RSVP on facebook; but if you find yourself wanting to attend that Sunday, don't sweat it, the event is free and open to all no tickets or invites required. We hope to see you there!