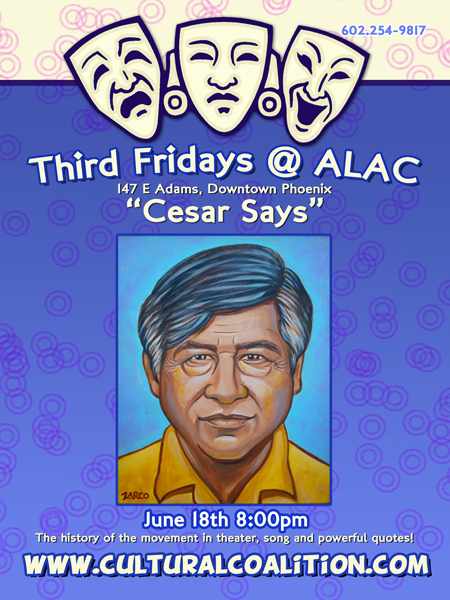 In 2010 Cultural Coalition presented an exciting theater series on the third Fridays of February, March, and April at the newly formed ALAC – Arizona Latino Cultural Center–in downtown Phoenix.
Face to Face in a Frenzy, February 2010
A one-man masked extravaganza starring Zarco Guerrero. With a master's touch, the artist personifies eccentric cultural stereotypes in a positive light while delivering provocative monologues on contemporary issues.
Cesar Says, March 2010
Featuring many songs of the farm worker's movement, this theater piece tells the story of Cesar Chavez and his continuos influence and legacy in American society.
Vincent:The Final Years of Vincent Van Gogh (by Sun Struck Productions), April 2010
Vincent van Gogh has been one of the most romanticized painters of the
 past two hundred years. No one had a greater understanding of this 
troubled artist and his medical condition than his loving and
amazingly tolerant brother Theo. It is through Theo's extensive
 collection of written correspondence with his brother that we are able to gain some insight into an individual intensely consumed by his artistic pursuits. Featuring: Marcelino Quiñonez and Carlos Ramirez.