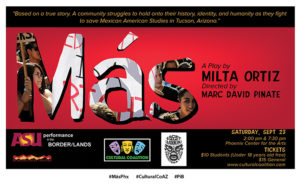 "Más"
Play written by Milta Ortiz
Directed by Marc David Pinate
Performance in the Borderlands is proud to partner with Borderlands Theatre (Tucson) and Cultural Coalition (Phx) to present the Phoenix premiere of Milta Ortiz's play, "Más". A National New Play Network commission docu-theatre play about the 2012 grass roots movement in Tucson to save ethnic studies. Based on 400+ pages of transcripts of interviews with over 40 individuals intimately inovled with the issue from all levels and perspectives, this provacative piece of theatre is a microcasm of social movements everywhere.
Choreography: Yvonne Montoya
Mask/Costumes: Zarco Guerrero
Performance Dates: Saturday, Sept. 23 (2 PM & 7:30 PM)
$10 students (students under 18 free)
$15 general
Borderlands Theatre
www.borderlandstheatre.org
Performance in the Borderlands
http://tinyurl.com/ASUPIB
______________________________________________________________________
History: "Fight Back"
"The story of how Mexican American studies flourished across the country begins in 2010, with Arizona House Bill 2281. A group of Republican legislators in the state designed the legislation specifically to ban the course—or more specifically, to ban the Mexican American studies class taught in the Tucson Unified School District, which attracted mostly Latino students. The legislators sought to implement the ban while leaving similar classes geared around Asian, black, and Native American cultures untouched…
..Almost immediately after legislators passed the bill on Mexican American studies, activists and lawyers fought back and resisted the directive; they would eventually take the ban to court. But in 2011, in his last days in office, Horne announced that if the school district didn't drop the course, it would lose significant funding. So many schools dropped or significantly watered down Mexican American studies. Some even banned books for the course.
…As the Tucson Unified School District's governing board prepared to discuss removing Mexican American studies from a list of classes that would count toward core requirements (seen by many as another move to demean it), nine students rushed the boardroom. They pulled chains from around their waists. Behind a curved wood desk with microphones, they sat in the board's rolling chairs and locked themselves in place. They pounded the table and chanted, "When education is under attack, what do we do?"
'Fight back!'"
_____________
"How one law banning Ethnic Studies led to its rise"
by J. Weston Phippen
The Atlantic
July 19, 2015
https://www.theatlantic.com/education/archive/2015/07/how-one-law-banning-ethnic-studies-led-to-rise/398885/