A Performance Art Piece By Renowned Sculptor, Maskmaker Zarco Guerrero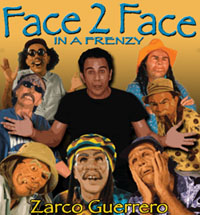 "Face to Face in a Frenzy" is a maniacal one-man masked manipulation that mirrors the mystery of the mind and heart in a myriad of fantastic faces. Zarco Guerrero, who has traveled extensively investigating the use of the mask in theater, ritual and ceremony, brings years of first hand experience to life in this chilling yet comical presentation. Utilizing an array of masks designed and sculpted by the artist himself, Zarco Guerrero embodies eccentric prototypes, forcing us to examine our most innate feelings and thoughts on such themes as self-esteem, bigotry, aging, abuse and denial. Through the artist's eyes we see ourselves and society as never before – exposed by his masks, movement and monologue.
The performance, featuring 10 different characters, has an approximate duration of 45 minutes and is followed by a question-and-answer session.