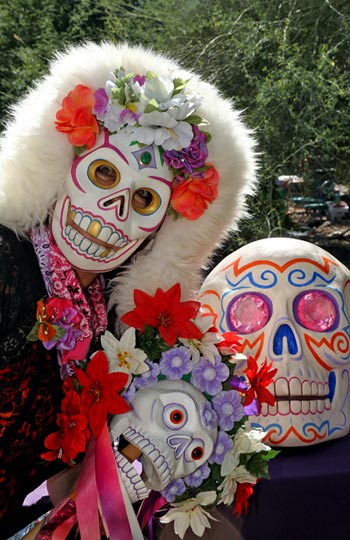 DIANE MCNEAL HUNT – CHOREOGRAPHER ~ PERFORMER ~ TEACHER  is recognized as a leading dance artist and educator by the Arizona and Southwest dance communities. Center Dance Ensemble's is the Resident Modern Dance Company at The Herberger Theater Center in Phoenix, AZ.  As Resident Choreographer for this professional company, Diane enjoys creating original choreography for the dancers.  As Outreach Education Director for the Company, Diane conducts dance residencies, master classes, and choreography for the all levels and ages.  In addition, Diane performs in featured roles for Center Dance Ensemble.
Artistic Director and Collaborator:  MarDi Dance Company, co-created with husband/dance partner Mark Vanek, in 1983, performs annually in Arizona's Dia de los Muertos Festivals, featuring Diane's original choreography inspired by dramatic masks created by internationally acclaimed artist, Zarco Guerrero.  Diane's collaboration with Zarco has created signature dance works that breathe life into Zarco's incredible masks.
This body of work and continuing collaboration with Zarco is significant and meaningful to Diane as a creative and passionate choreographer.
Diane's original choreography is performed by Center Dance Ensemble, the Resident Modern Dance Company at the Herberger Theater Center. Her original works are included in the repertory of Desert Dance Theatre, Dulce Dance Company, Amber Robins, Kaleidoscape Dance, Nicole Olson and Dancers, InSpiritus Dance Company, Chandler-Gilbert Community College and Convergence Ballet Company.
As a performer, Diane enjoys a rich Artist's career that includes performing, teaching and choreographing with Center Dance Ensemble, A Ludwig
Dance Theatre, and Desert Dance Theatre.  Also, performing original works of Cliff Keuter, Elina Mooney, Kelly Roth and guest artist with Scorpius Dance Theatre.