Community Spotlight: i.d.e.a. Museum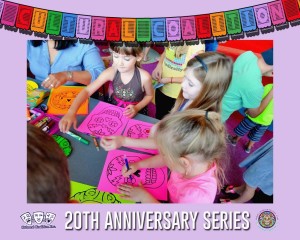 This week on the 20th anniversary blog series it only feels right to talk about a community fixture catering to kids and families in Mesa for 38 years, the i.d.e.a. Museum.
The i.d.e.a. Museum is known for its ever-changing art exhibitions, hands-on, multi-sensory art projects and its increasing use of technology and STEAM (Science, Technology, Engineering Art, and Mathematics) cool activities for kids.
In addition to these everyday happenings, the museum also schedules group tours, events, multi-generational courses, and sensory development art classes for infants.
If you're interested in creating art, engaging your imagination and exploring the museum "for your child and the child within you" you can visit the i.d.e.a museum during its regular hours, or for special events.
Come see what the i.d.e.a. Museum has to offer this Saturday, October 8th, at our Puentecito Fest, where you can experience all of what the museum has to offer, plus all of the performances and event activities that are included with admission. Hope to see you there!