7 Things You Need to Know Before Going to Dia de Los Muertos PHX Festival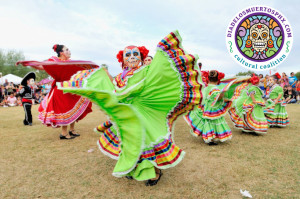 You may never have attended a cultural event beyond a St. Patrick's Day parade, so if you are going to Sunday's Dia de Los Muertos PHX Festival, there are a few things you should know beforehand:
1: Dia de Los Muertos is NOT a "Mexican Halloween." It is a celebration of the lives of those who have passed and an annual welcome back to those spirits. Festival goers unfamiliar with the holiday may think this weird, but Dia de Los Muertos is very respectful of the dead. Check your squeamishness at the festival gate, as life beyond the grave has a very large, welcome presence at the celebration.
2: You don't need to speak Spanish to enjoy the festival activities. Cultural Coalition, which organizes the event, strives to be inclusive, so you will hear both Spanish and English being spoken at the festival, as well as many references to the celebration spoken in the native language of Nahuatl.  The majority of vendors and artists are bilingual, so don't be afraid to start up a conversation. Also, you will enjoy performances by local performing arts groups that include Chicanos, Japanese-Americans, African-Americans and Native Americans.  We all honor our ancestors!
3: Many festival performers will be wearing "Calaca" masks or face makeup. If you want to show your Dia de Los Muertos spirit but are unsure about applying face makeup, you will find face painters at the festival who will paint your face for a nominal fee. The kids always enjoy getting their faces painted, so why shouldn't you? Besides, when you stop for dinner on your way home, your face will receive plenty of attention.
4: Wear comfortable shoes and don a shady hat. You will see and hear mucho  traditional folk dancing and music, which will make  you want to move to the rhythms. Cambalache, the featured son jarocho group from Los Angeles, will be playing tunes they perform at community dances, and award-winning Ballet Folklorico Ollin Yolitzi, among other dance groups, will delight attendees with high-energy choreography. 
5: Be open to trying new-to-you foods, including roasted ears of corn (elote) slathered in mayo and cheese, traditional fry bread and toppings, or the fresh-fruit taste of paletas (ice cream bars). No alcoholic beverages, as this is a family-friendly event.
6: It may surprise you to see a more indigenous angle at the Dia de Los Muertos PHX Festival; for example, there will be  Aztec dancers and drummers.  Cultural Coalition successfully makes the connection between the celebration and its ancient origins among native peoples of Latin America. Despite the Spanish invasion, indigenous people have stubbornly hung onto this celebration as their own, and it retains a mysterious, mythic undertone. And because Cultural Coalition is dedicated to the promotion, education and development of Indo-Latino arts and artists in Arizona, its events often shine a light on the ancient cultures that continues to thrive as seen in many annual festivals like this.
7: The October 25 event is FREE to the public, so attending Dia de Los Muertos PHX Festival won't bust your wallet. The festival runs from 1 to 6 p.m. (sundown) and is located at Steele Indian School Park, 300 E. Indian School Road, Phoenix. There is plenty of parking inside and outside the park and the festival also is accessible via METRO light rail.
For more information on the festival and its organizer, the Cultural Coalition, visit www.diadelosmuertosphx.com or www.facebook.com/culturalcoalitionaz